Karikari Peninsula
Karikari Peninsula
BAY OF ISLANDS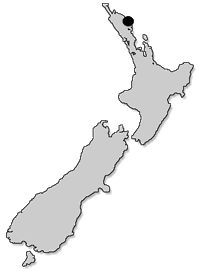 Pictures of Cape Reinga Bus Tour
Book a Bus Tour to Cape Reinga
Sightseeing, Tours, Attractions and Events in the Bay of Islands
Hotels and Accommodation in the Bay of Islands
By Richard Moore
IN A list of the top destinations in New Zealand, the Bay of Islands is an almost ever present.
There is a shopping list of attractions to visit, including places like Russell, the Treaty House at Waitangi, or sailing its wonderful waters on vessels such as the tall ship R Tucker Thompson.
But many visitors base themselves in Paihia and – apart from a trip to Cape Reinga – don't tend to explore the "winterless north" as fully as they should.
I am as guilty of that as anyone and so on a recent journey to the Far North I was determined to try something different and check out the less-travelled roads.
And we had a wonderful time doing so.
The Far North is beautiful and, more often than not, will take your breath away with some truly gorgeous beaches and landscapes.
But you do need to try to ditch the clock.
Get off State Highway 1 and instead opt for SH10. This will take you along the tip of the North Island's eastern side. Then, near Kaeo, you want to turn right on to a loop road that heads towards what I regard as a must visit – Matauri Bay.
There are a few houses, a campsite and a general store but that is about it.
To see what Matauri Bay is really all about you need to climb a small hill at the end of the beach.
Once you reach the summit you will realise why you know the name of the bay, for it is where the Rainbow Warrior lies at rest in the close-by Cavalli Islands.
There is a large monument to the Greenpeace vessel, which was sunk in Auckland harbour by French agents in 1985, and a map to point you to where it lies.
The view is both pretty and poignant and on my two visits there I have taken time to just sit down and feel the spirit of the place.
Heading back down the hill you get to see along the length of the beach at Matauri Bay and, on a sunny day, it is a fabulous sight.
I reckon if you have a day or two to spare then camping here would be idyllic.
Scuba divers will also get the chance to take to the water for what is regarded as one of the best wreck dives in the country and explore the remains of the Rainbow Warrior.
Back on the same loop road are more outstanding beaches at Tauranga Bay and Taupo Bay.
Once you've had your fills of scenic beauty – or the water – you can stop off at the port settlement of Mangonui where an excellent lunch is available at one of the best fish and chip places around.
Even during a major tropical storm this eatery is five star.
Clean, tidy and with fabulous food. The Mangonui Fish Shop sets the standard for all food outlets in any tourist area.
Feeling nicely full it is then back on to the road, past the pink coral sands of Cable Bay and on to the reasonably plain inland parts of the Karikari Peninsula.
But do not be fooled, the beaches in this area are some of the best in the country!
We stayed one night at the Whatuwhiwhi Top 10 Holiday Park but, due to the storm clouds scudding over that part of the "winterless north", we couldn't enjoy the nice beach there.
Still, we took the time to drive up to Matai Bay on the eastern tip of the peninsula and now know where to spend a few days in settled summer weather.
Matai Bay is gorgeous with a capital G.
This place is a gem and it is with reluctance I write about it as once people visit they will keep returning for its pristine sands, clear water and sheltered swimming.
It has a DoC campsite and two lovely coves to pick from, but the one that grabbed us was the almost circular western one.
On a sunny day this would be paradise, with waters to rival many a Pacific island.
If you are into surf casting, or long strolls on a great beach, then Tokerau Beach near Whatuwhiwhi offers both.
Shellfish lovers will appreciate the easy digging as well.
The next day we decided to make our run up to the far, Far North and on the way thought we would check out Puheke Beach.
It sounds silly, but we saw its gleaming sands from a ridge on the other side of the peninsula and thought it worth the side trip.
We were right.
It's not a long detour off State Highway 10, along Inland Rd, turning left into Rangiputa Rd before heading up Puheke Rd.
At the end of it lies one of the most stunning stretches of sand I've seen.
White, white, white sands. Blue waters and blue skies that contrasted perfectly with white clouds.
The wind was up, courtesy of the tail of that blasted storm, but despite that you could see what this beach would be like on a still summer's day.
Perfection!
Now there is absolutely nothing at Puheke Beach so you will need to take all your food and drinks if you are contemplating the journey.
I'm guessing most people would want a day there.
But we were on a schedule as, unfortunately, we tend to be when on a travel-story-finding adventure.
Mind you, the Karikari Peninsula is now firmly set in our minds as a place to re-visit and laze about in its amazing natural beauty.