Cape Reinga and
Te Paki Sand Dunes
Exploring Far North NZ by Car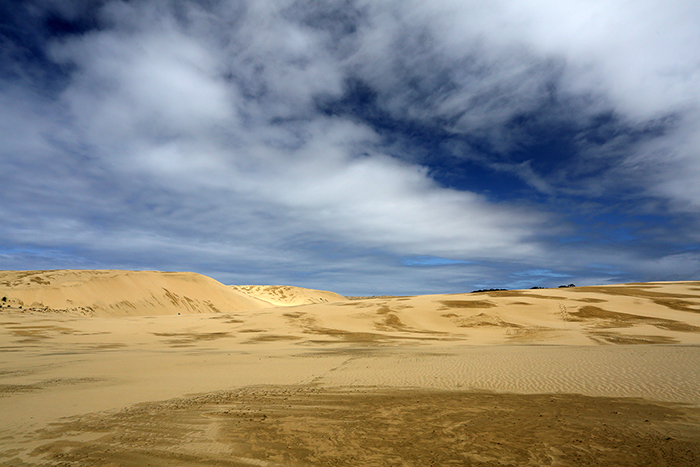 BAY OF ISLANDS
Sightseeing, Tours, Attractions and Events in the Bay of Islands
Hotels and Accommodation in the Bay of Islands
Words and Pictures by Richard Moore
The far Far North is an amazing place to spend time exploring. It is beautiful, spiritual and accessible, yet at times disconnected from the rest of the world.
Amenities are basic and the further north you go the more limited they get.
Mobile phone coverage is dodgy, petrol stations scarce and you should always have food and water in your car as we sometimes found it a mission to locate an eatery.
The Far North's number one drawcard is Cape Reinga – almost at the very tippy top of New Zealand – where you look out to sea and realize that just about everything on the planet is ahead of you.
You can see the oceanic turmoil as the waters of the Tasman Sea and Pacific Ocean collide off the cape and then become one.
Some days this is quite subtle, just a disturbance on the water's surface but, in stormy conditions, the crashing waves can be as high as 10 metres.
The iconic lighthouse at Cape Reinga is small, but powerful, with its 1000 watt bulb capable of firing its beam 49 kilometres out to sea.
A direction sign lets you know just how far you are from everything.
Sydney is almost 2000km away, Tokyo more than 9000km, Los Angeles 10,479km and London a whopping 18,029km distant.
Its bright yellow boards feature in just about every tourist's photo montage but, on closer inspection, the experience is somewhat marred by dopey visitors plonking stickers on the signs.
The lighthouse area has had a major facelift and the improved pathway makes the cape more accessible, thankfully in a low key way.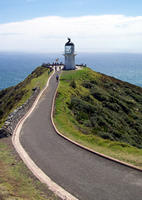 It also gives you some great views of the ancient pohutukawa tree that, according to legend, allows spirits to travel north on their journey to Hawaiiki.
My previous journey to Cape Reinga was an excellent a day-long bus tour around the Far North from Paihia. We got to see all sorts of key sights – including the giant kauri Tane Mahuta – as well as zooming down 90 Mile Beach!
We also had a brief stop at the Te Paki dunes so people could whoosh down large sand slopes on boards.
And this is the only problem with a bus trip. It is great to get to see heaps of things in a relaxed manner, but you can't get too stay too long in one spot.
We had 30 minutes at Cape Reinga and about the same at the Te Paki dunes.
That is why on this trip around the Far North I wanted to drive and be able to see (read photograph) the places at leisure. And it was a sensible choice as we were able to spend well over an hour at Cape Reinga and more than two hours at Te Paki.
On a blue-sky day the Te Paki dunes are wonders.
The first one you see and climb on bus tours is impressive. My lady went up it first and I followed, somewhat half-heartedly, because I didn't want sand in my boots, my camera gear was heavy and, well, I was feeling lazy.
Thank goodness I made the effort because when we reached the top a new world opened up before us.
It is an amazing sight as huge sand ridges line up before disappearing into the distance towards the Tasman Sea.
Te Paki is just so different to most New Zealand landscapes.
These golden mountains put you straight on to the Lawrence of Arabia set, I half expected to see someone on a camel riding over the far horizon!
When I did see two small figures approaching from the distance - they were carrying boards.
You can hire boards at a little stall near the car park on the Te Paki stream and it looks an absolute hoot to zoom down the dunes on them at breakneck speed.
Apart from the occasional whoops of delight from board riders, the Te Paki dunes area is really quiet.
There is a stillness that is similar to being on the giant sand dunes of southern Morocco.
And, for nature lovers, the Te Paki Recreation Reserve – which straddles the northern tip of New Zealand – is one of the most intact and diverse ecosystems you can visit.
Apart from the giant dunes there are steep coastal cliffs and expansive wetlands that are home to many threatened plants and animals.
Our time in the Te Paki dunes was one of the highlights of our tour to the Far North, so if you are in the area make sure you visit them.
And do take the time to climb the first sand hill and explore the stunning landscapes beyond – I promise you'll be glad you did.