Orakei Korako
By Richard Moore
TAUPO and
CENTRAL PLATEAU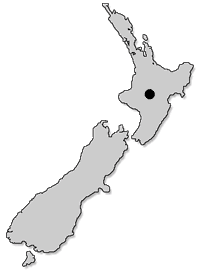 Pictures of Orakei Korako
Great Adventure Ideas
Taupo Highlights
What's to do in Taupo
Rotorua Highlights
Adventure in Rotorua
Photos of Rotorua
Adventure Photos of Rotorua
Sightseeing, Tours, Attractions and Events in Rotorua
Hotels and Accommodation in Rotorua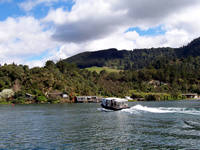 One of the least known of New Zealand's geothermal parks is the hidden gem of Orakei Korako.
Situated between Taupo and Rotorua, Orakei Korako is the perfect way to see some truly amazing silica terraces, geysers, mudpools and a sacred cave called Ruatapu.
To get there you get off the main highway near the Mihi bridge and travel for about 21kilometres until you see a sign pointing you the last wee way.
Entry is $22 for adults and kids under 16 cost $8. That price includes a boat-ride ticket to get you to the thermal site just across Lake Ohakuri.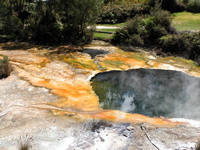 The thermal highlights include the Diamond Geyser, Ruatapu Cave, the Rainbow Lookout, Emerald Terraces and the five-metre high Cloud silica wall.